The very image of what it means to pursue convenience and reliable initial integration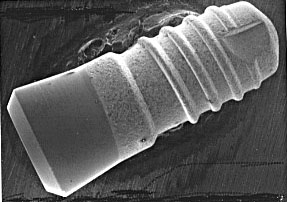 Our implants are the very image of what it means to pursue convenience and reliable initial integration.
Ever since the establishment of the concept of osseointegration, implants have become an increasingly popular option for replacing lost teeth.
Implants are currently in broad use among general clinical doctors, and these doctors are always on the lookout for implants that are more convenient and have higher rates of success. Mytis Arrow Implants were created to meet their needs.
The world's first apatite-blasted surface (ABS) treatment process, which improves biocompatibility, and an implant placing process that makes use of self-tapping combine to enable tight initial integration.
In addition, Mytis Arrow Implants are pre-equipped with an insertion jig, which provides a simpler implant placing method.
Our implants can be used with peace of mind and a sense of satisfaction both by doctors who are just beginning to consider implant treatments as well as by those who are already highly experienced.
Apatite-Blasted Surface Treatment
In this technique, we blast the portion of the implant that will be inserted into the bone using crystal particle of calcium phosphate ceramics (HAP, β-TCP) in order to increase surface coarseness. The surfaces of ABS processed implants acquire improved biocompatibility as the process removes all traces of bio-inert materials like alumina from the surface of the titanium.
The Characteristics of Apatite-Blasted Surfaces
Regarding the distribution of calcium phosphate on ABS processed implants, while phosphorus and calcium have been detected in minute amounts over the entirety of apatite-blasted surfaces, chemical analyses of the blasted surfaces show that only the tiniest traces of calcium phosphate remain, and the amount over the entire surface is within acceptable levels. However, as the ABS processing removes all traces of bio-inert materials like alumina, quick initial integration is thought to be possible on ABS processed surfaces than on those processed by other brands.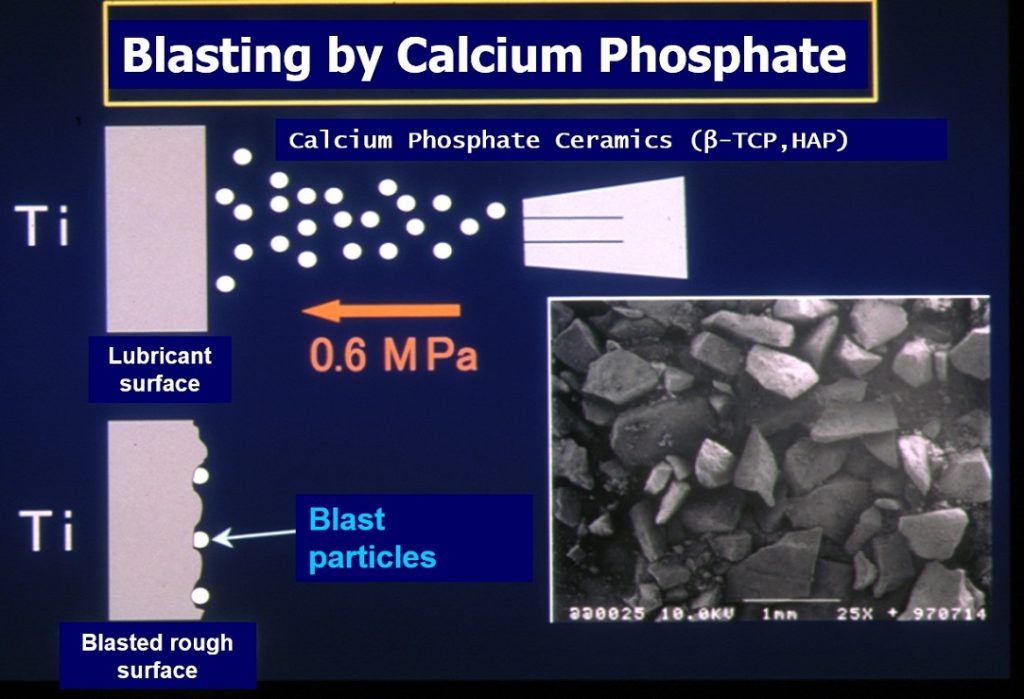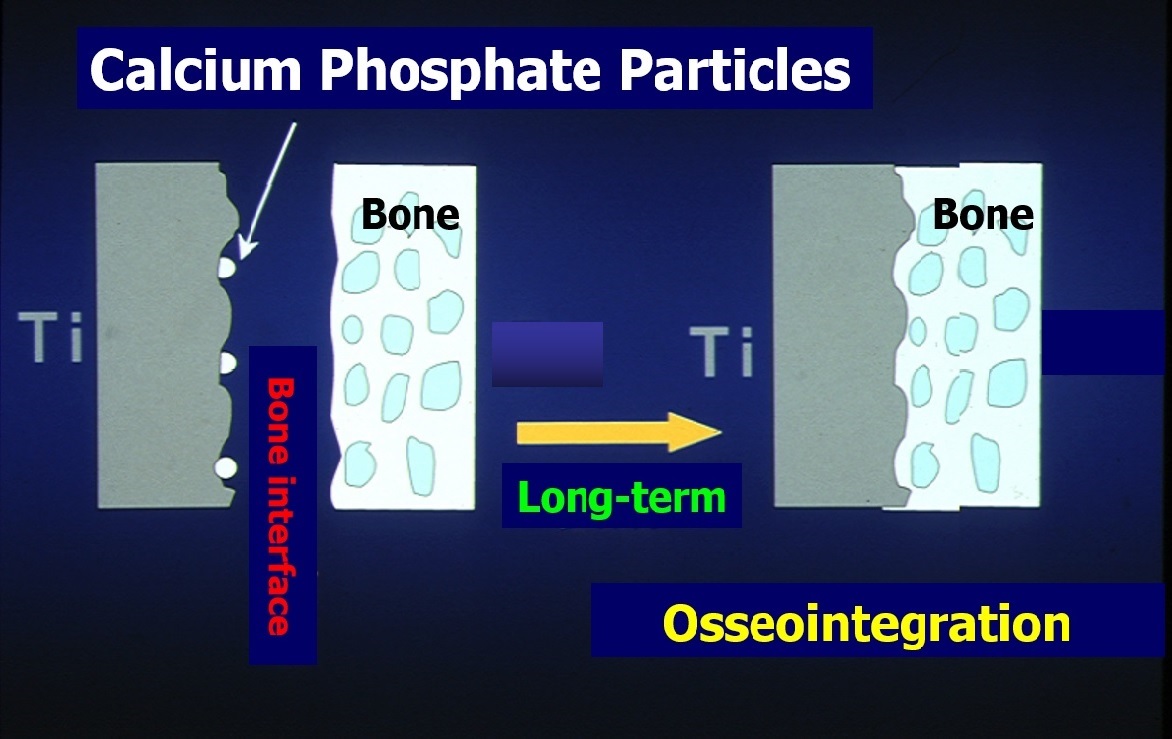 Following blasting processing, surfaces are thoroughly cleaned, which removes all particles except those embedded securely into the titanium surface. As such, Mytis Arrow Implants are fundamentally considered to feature pure titanium surfaces. This means that they can be considered pure titanium implants with moderately more surface coarseness than apatite-coated implants. However, it is surely possible to achieve sufficient osseointegration with this level of HA blasting.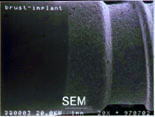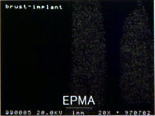 Phosphorous and calcium are detected when analyzing the blasted particles embedded in the surface of ABS treated titanium using Scanning Electron Microscope (SEM) and Electron Probe Micro Analyzer (EPMA) image, but only titanium is detected when analyzing the surfaces of the titanium only slightly removed from the locations where these are detected.
The blasting processing itself is resulted for leaving behind trace amounts of blasted particles, but such trace amounts do not hinder biocompatibility. To the contrary, ABS processing actively contributes to achieving osseointegration during the initial period after implantation.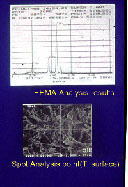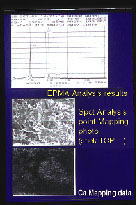 Animal Testing (Short-term) Provided by: The Japan Institute for Advanced Dentistry 
We embedded an Arrow Implant sample that had only been machined (pure titanium: Ti) and an Arrow Implant sample that had been ABS processed, into the mandible of a mature canine. Five weeks later, we extracted the samples, and the ABS treated implant showed good synostosis.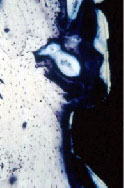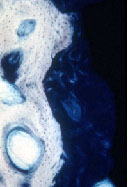 Animal Testing (Long-term) Provided by: The Aomori Implant Research Group
We placed an ABS treated Arrow Implant sample into the mandible of a mature canine using a one-stage, single placing implant operation, and twenty weeks later, we extracted the sample.At those times,the canine had chewed normally but did not load occlusal pressure.
Both the low-power magnification of the sample and the enlarged photograph of the alveolar bone show good synostosis with no aberration of epithelium between the implant and the bone. When using the coated implants or the implants that have undergone other types of surface treatments, some cases have shown bacterial infections and/or aberration of epithelium .